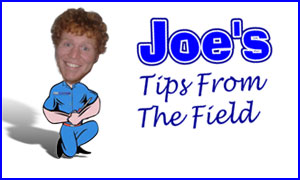 Change That Nasty Filter!
Joe says: "Purchase good (pleated) mid-grade filters and change them often!"
Expensive Filters are not a replacement for replacing your filter regularly! Restricted filters are damaging to your HVAC equipment. Dirty/restricted filters cost more in utilities and shorten equipment life.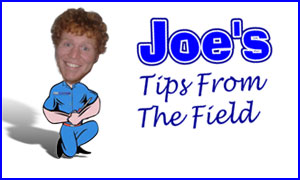 Help Us Help You
Joe says: "Please remove your cat box!"
Please be considerate of our time and workspace in your home. Please move litter boxes and stored items away from your furnace before we arrive. We'll be happy to charge you our hourly labor rate for relocating your stuff, but you'd probably rather pay us for time spent fixing your furnace.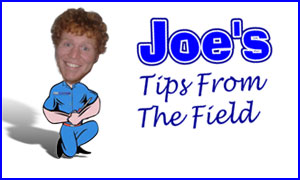 Safety First
Joe says: "Please don't text and drive! And wear your seat belt! I'd like all of our customers to be safe and happy thru the holiday season and on into the upcoming year!"
On the way to a job site this week, Joe witnessed a 3-vehicle accident caused by texting and driving. Lots of damage… It's really not worth it!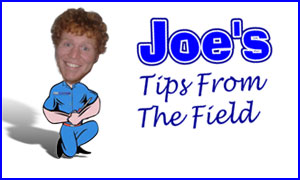 Buy Local
Joe says: "Please support local business providing local jobs as they recover and get back on their feet!"
The recent flooding in the St. Louis area has left many of our customers with costly repairs, among other hardships, in its wake.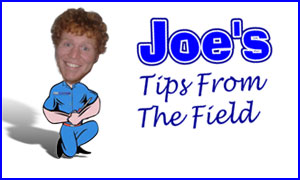 Choosing a Humidifier
Joe says: "A power humidifier is more efficient, but also more expensive. A bypass humidifier will provide almost the same level of humidity at less cost. Decide which one will work best for your needs, and give us a call!"
Keeping your home comfortable and healthy during cold winter months requires that the humidity in your home be kept at certain levels. Humidity helps ward off dry, itchy skin. Flu viruses don't thrive well in higher humidity atmospheres. Your house itself needs humidity to prevent woodwork, furniture, and even expensive musical instruments from warping and cracking.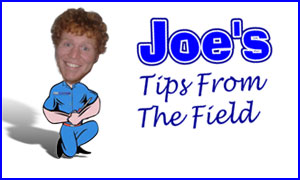 Let's Talk Carbon Monoxide
Joe says: "Protect your family from preventable disaster - monitor your home with a working carbon monoxide detector on each floor!"
C0 is a deadly, toxic gas that is created from the improper or incomplete combustion of any fuel. It can seep from any fuel-burning device (New or Old) such as a furnace, a wood fireplace, or a water heater. Adding to the danger is the fact that it is colorless, tasteless, and odorless.
C0 tends to stay low toward the floor until levels build up, pushing it higher. Ideal placement for your C0 detector is knee high on the wall. (Do not allow children or pets to play or interfere with your C0 detector) It is recommended that you have one on each level of your home.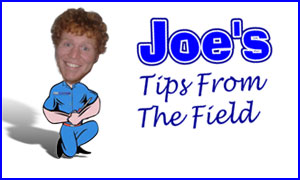 Let's Talk Some More About Filters
Joe says: "Please check your filter at least once per month!"
Furnace filters are something that many people never give much thought to, but they play an important role in keeping your HVAC system up and running. If your cheap filter is so thin you can see through it, it's probably not cleaning your system effectively. Expensive filters clean more and claim to last longer, but this may not always be the case. Each home is different in the amount of dust, pet hair, etc., that gets pulled through the system on a daily basis. I recommend a mid-grade filter, and CHECKING the filter at least once per month - then changing it according to what you find. If your filter has changed color, it's time to change. If your filter has a layer of debris clinging to it, it's no longer protecting your furnace or you, and it's re-circulating dirt and crud through your home.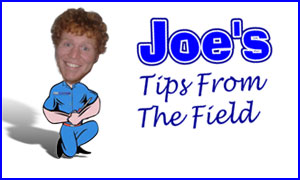 We Are Here to Help
Joe says: "If you ever have questions about your system, no matter how big or small, please don't hesitate to ask!"
Your HVAC tech is here to help! We leave our sticker behind with our contact information, for any time you need assistance or information. Don't hesitate to ask. We meet many customers who have just moved into a new home who can't figure out where the filter goes, because the unit in the new house is different from the one in the old house. We'll be happy to get whatever information you need.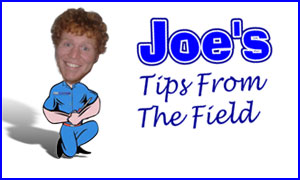 Home Warranties
Joe says: "If you plan on purchasing a home warranty policy when buying a home, make sure you understand the company's policy regarding replacement of HVAC equipment."
It might be a wise choice to have your HVAC company do an inspection of the equipment before you buy. Home inspectors are NOT HVAC certified, and they give educated guesses at best, as to the status of equipment. Home warranty companies usually won't cover a replacement on a policy under one year old, and many times will deny claims on a "pre-existing condition" clause. If you need a new furnace your first winter, you might be stuck with a cold lemon.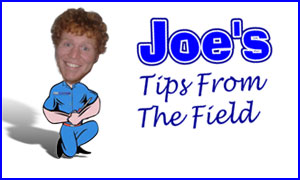 Life Expectancy of Equipment in Your Home
Joe says: "We have to face it - nothing lasts forever! All things age and wear out with time, including the equipment that runs our home, such as hot water heaters, furnaces, and air conditioners."
Prevent ugly surprises: Especially if you (or your grown children) are first time buyers, please be sure to find out - before you buy- the specific age and condition of the HVAC equipment of your intended home. (-and please, if you've already moved in only to learn that the HVAC is dead or dying, don't shoot the messenger (your HVAC tech) - he had nothing to do with the sale of the home you purchased.)
If you have questions regarding the age of your HVAC equipment, call or email us with the model and serial numbers, we'll be happy to get the information for you.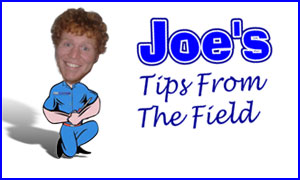 Joe & New Family Member, Ben
Joe says: "If you have pets in your home, make sure you are checking and changing your furnace filter often! Pet hair is one of the quickest clogger-uppers!"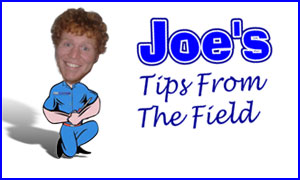 Reminder
Joe says: "Have you checked your furnace filter this month?"
With the lower than normal temperatures we've had, our furnaces have been working harder than usual, and our filters may be in need of a change-out. Also, please don't forget to check the batteries in your thermostat!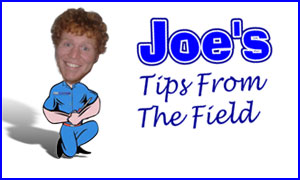 Be Aware and Prepare
Joe says: "Be aware and prepare!"
If your existing HVAC system is showing its age, please keep in mind that installing a new part is not the same as acquiring a new unit. As the saying goes, a chain is only as strong as its weakest link. New parts on old systems are basically the equivalent of a 'band-aid'. Plus, putting new parts on aged systems can actually cause damage to the new part. Much of the newer equipment available today is not designed to work well with older systems (such as installing a new evaporator on a 20 year old furnace). Be aware of the true overall condition of your HVAC system and plan accordingly.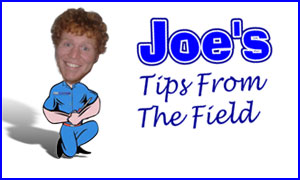 R U R-22?
Joe says: "Please don't shoot the messenger when he tells you it's time to replace your system."
Your HVAC system is an investment that could last up to three times as long as a car, at one quarter of the purchase price! It also utilizes up to 50% of your home's utility costs.
Many older systems are still operating on R-22, which is now an obsolete coolant. Please be aware that large and costly repairs to these aging systems can be a gamble. The next breakdown could be unrepairable, and then your money is lost.