Wifi Thermostat Applications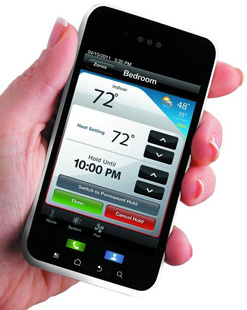 Along with everything else that forward-moving technology continually improves, it is also improving the way we manage the comfort of our homes. To some, the modern thermostats available to choose from might seem like something we encountered on an episode of Star Trek or The Jetsons in days gone by. Well, okay, they're not voice activated (yet...). However, as modern living continually shifts from old school to new age, manufacturers are listening to what their customers want, which is something that looks modern and attractive and will get the job done more efficiently than ever before. They also want something that is still easy to install and easy to operate, even by those un-tech-savvy individuals among us. The good news is that new technology is becoming more and more affordable all the time. Manufacturers are admittedly designing their wares with the younger, tech-friendly generation in mind, but don't let that put you off. More and more seniors are becoming connected to the latest innovative technology in comfort through their modern gadgets than ever before.
You can shop the full range of products available, and choose one with as many (or as few) bells and whistles as you want. You can choose a no-nonsense model, just the basic buttons, that looks nice on your wall. Or, you can start by customizing the color that frames your high-definition, touch-screen display, which is also customizable to your personal preferences for color and appearance. Then you can really get down to business.
Honeywell and Ecobee, among others, offer products that will allow you to turn up the heat, turn down the A/C, adjust the humidifier/ dehumidifier and the ventilation, check the local weather, check energy use, activate or deactivate your home's security system, and more. Nexia has a cute little number that can give you digital camera options for your home's virtual security system and will also allow you to operate your lights, garage door, and ceiling fans. Also, thanks to the remote access allowed by today's thermostats coordinating with the preferred mobile device of your choice, you can manage all these things literally from the palm of your hand while, say, lying under a palm tree on vacation. Technology that keeps you connected and in control from virtually anywhere on the planet!
Nest has a model (the Nest Learning Thermostat) that can actually monitor the homeowner's habits and preferences and create a custom schedule for your individual home. It can even turn itself down as it senses activity diminish when no one is home. The thermostat can also collect data and send you an email report on your home's energy use.
The cutting-edge technology of today's thermostats allows for precise temperature control in multiple zones, providing maximum comfort along with energy savings, all from one device. They can help the modern homeowner create customized home comfort while managing the ever rising costs of energy, and give you access to information whenever you need it.
On commercial units as well, controls are becoming increasingly accessible by smart phone or other remote devices. Data can be tracked to optimize comfort in all areas of the building. The information collected can be used to determine why one unit works harder than another unit. Manufacturers can track data and send a report to the user. If connected to an HVAC contractor, a service professional can also receive alerts from a system, giving them the opportunity to respond more quickly to the customer's needs. They can also monitor equipment to predict any issues or maintenance needs which can reduce unit down time and save money in the long run.
In the end, a manufacturer's main goal is to be able to provide more options to achieve maximum comfort while also saving as much energy as possible. Manufacturers are striving to give the customer the comfort control features they want, while making thermostats as user-friendly as possible for today's busy lifestyles.
Ask one of our HVAC professionals and allow them to recommend a thermostat that will best suit your home or business comfort needs!