Air Comfort Zones for Your Home and Business
GET INTO YOUR COMFORT ZONE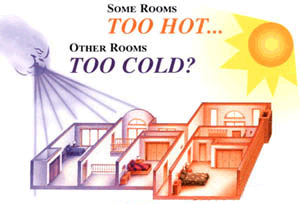 When you're comfortable, your wife is freezing. When she's comfortable, you're roasting. Are you tired of the thermostat wars and trying to find a temperature that makes everyone happy? Then your home might be a prime candidate for comfort zoning system for each member of your family with the addition of a zoning system to your current equipment.
THE BENEFITS OF ZONING
A zoning system allows you to manage where and when the air flow from your current system is going in your home. The zoning system allows you to set different rooms or areas of your home at different temperatures, keeping everyone comfortable at the same time, while using less energy to operate your comfort system.
With a zoning system you do not have to choose between your comfort and energy costs. Zoning allows you to regulate the amount of conditioning being used in specific areas of your home. The ability to close off air flow to areas not in use will allow you to reduce the amount of energy needed to heat or cool your home.
HOW IT WORKS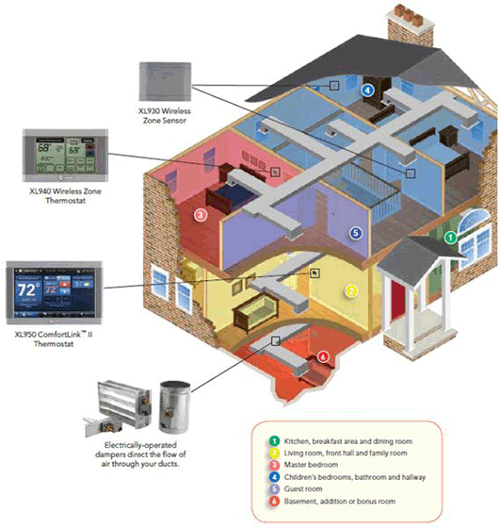 Zoning works by installing a separate thermostat into each of the areas, or zones, in the home needing specialized attention. A system of wired dampers is installed into the existing ductwork of the home to allow more or less conditioned air to each zone, depending on the individual thermostat setting. Energy is conserved with the use of a separate programmable thermostat in each comfort zone. This can allow zones to be conditioned only when the family is using them, such as your main living areas only during the day, and bedrooms only during the night while your family is sleeping, allowing you to save on your energy bill. Setting the temperature back while the home is unoccupied during the day and setting it to resume a more comfortable temperature when everyone is home will also help to conserve energy.
SOME COMMON CHALLENGES
Air Stratification: One common challenge in maintaining comfort in multi-story homes is air stratification, which is when warm air rises and cool air falls. If you have ever dealt with an upstairs that is uncomfortably warm while the lowest level feels cold, these are the effects of air stratification. A zoning system in the home can help to correct this situation by optimizing airflow to the areas where more conditioning is needed, while restricting air flow to areas that are already maintaining a more comfortable temperature.
Lifestyles: As we transition through the stages of our lives, we tend to vary the way we occupy our homes. New babies, parents of grown children, and elderly parents in our home are key examples. In each case, the comfort needs and lifestyles of individual family members differ. Particularly, infants or the elderly may need higher or cooler temperature conditions than other family members, and may spend the majority of their time in one area of the home.
Adding On: As your home expands with the addition of more living areas, your old comfort system may find itself more challenged to keep pace with the extra space. Your old heating and cooling system may be unable to accommodate the new arrangement. A zoning system can facilitate air circulation to all areas of the home and improve air quality in the home by preventing stagnant air pockets in some spots.
Sun Exposure: The design of your home can have a direct impact on the performance of your comfort system. The number, size, and placement of windows can affect the temperature of the entire home. The temperature in sunny rooms can differ significantly from areas that are unexposed. Once the sun moves away for the day, a room with large or multiple windows can quickly cool off, necessitating your comfort system to work harder to maintain an even balance throughout the home.
GO WIRELESS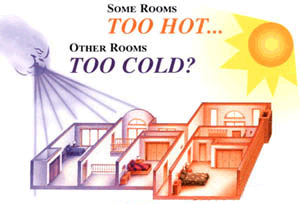 A good choice for optimizing the efficiency of your zoning system is the use of wireless thermostats. Wall mounted thermostats are always subject to the specific conditions of the room they are fixed in. Depending on factors such as the amount of direct sunlight from windows , cold drafts, or the thermostat's proximity to another heat source such as a fireplace, it may not report an accurate temperature. A wireless thermostat can be moved away from these influences and allow you to determine the best placement for reflecting an accurate temperature and maximizing comfort in each particular zone.
When you think a zoning system might be the solution to getting more from your current comfort system, please contact us. Our certified professional HVAC team will be happy to evaluate your current comfort system and home layout, discuss your preferences, and give you a quote on a system that will meet your home's needs.