Residential Humidifiers and Air Cleaners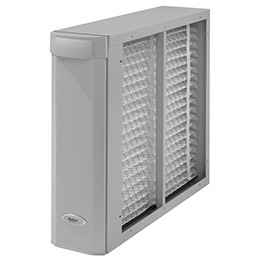 New Systems Air Conditioning in St. Louis
We all try to do as much as we can to create the healthiest, most comfortable environment in our homes for ourselves and our loved ones. We all want our homes to be a pleasant oasis where we can retreat to relax, rest, regroup, and recharge from and for the busy lives we lead.
One thing that is paramount to our home health and comfort is monitoring the relative humidity levels in our home. Keeping the moisture at proper levels can actually help prevent sickness, allergies, and even physical damage to the home.
"There is as yet no cure for the common cold. The most important preventative measure would appear to be the proper regulation of the humidity."

Joseph Lubart, MD, New York State Journal of Medicine.
Many viruses, bacteria, and allergens affecting our health can be effectively controlled by maintaining proper humidity levels. Many biological pollutants such as bacteria, mold, dust mites, and other insects (such as cockroaches) thrive in high-humidity conditions. Too-low humidity can contribute to bacteria or viruses such as the common cold, flu, or other respiratory ailments entering the body more easily, by preventing your sinus tissues and airways from doing their job due to lack of proper moisture levels in the air you breathe. Having proper humidity levels can also help reduce the need for air purifiers in your home.
"Increasing the humidity of your home helps eliminate the dry air that can irritate and inflame the respiratory passages in the nose and throat and can relieve the discomforts of colds and the flu."

A.D.A.M. Health Encyclopedia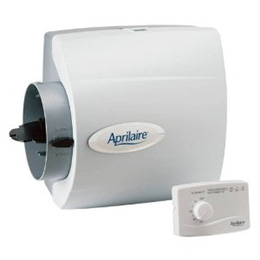 The warm air that heats our homes during the fall and winter seasons pulls moisture from every square inch of the home, including the living organisms inhabiting the space (that means literally you and your family). The results are dry, itchy skin, annoying static cling, static shocks, and feeling 'too cold' at normal temperatures.
The home itself, even new homes, can suffer damage in the form of cracks in walls and ceilings, as well as separations in wood floors and trim. It can also cause framing around doors and windows to shrink, creating energy-inefficient gaps that allow heat to escape and cold air to come in. The result? Higher energy costs.
Even expensive musical instruments can go out of tune. Computers, cameras, and electronic equipment can sustain static electrical charges, causing the necessity of expensive repair or replacement.
Proper relative humidity levels allow you to feel warmer at a lower thermostat setting. The U.S. Environmental Protection Agency reports savings of up to 4% on your heating bill for every degree you lower your thermostat.
A whole-home humidifier from Aprilaire or Honeywell will allow you to protect your family as well as your home and its contents, which is most likely your largest investment. Providing constant and proper humidity control can help act as an air cleaner as well as moisturizer, keeping everything in your home in good condition, maintaining its value and extending its life. Today's modern humidifiers are designed to be as environmentally friendly as possible, while making you as comfortable as possible. Whether you are updating your home to make it more health-and-energy efficient or building a new green-certified home, a complete line of contemporary, up-to-the-minute products is available to provide you with maximum protection and comfort. Properly installed humidity control can even help qualify your home for the Green-Built Certification Program of the National Association of Home Builders.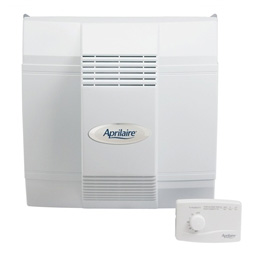 The proper levels of relative humidity in your home fluctuate with the changes in outdoor temperature. A whole-home humidifier can continually monitor and accurately respond to the needed level of humidity in your home. The automatic control will keep your home's humidity level exactly where it needs to be to keep you feeling optimum comfort all year around. To achieve the same effect with a portable unit, you would need to place one in every room of your home.
Aprilaire offers a model (the Model 400 Bypass Unit) that uses virtually no electricity to operate and uses 100% of the water that goes into it, eliminating the need for a drain. With a clear and easy-to-use digital control, the unit provides accuracy and information to help you keep your home properly humidified regardless of temperature or conditions, 24/7.
Ask our team of HVAC professionals how you can contribute to the health and comfort of your household from top to bottom with a properly installed whole-home humidifier!